THE EP: "ALL TOO SOON"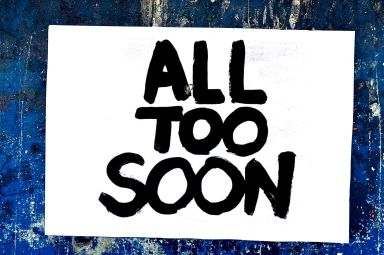 Web 2.0 Attention-Deficit Summary for the Reading-Impaired:
Songwriting – Cole Porter – success – failure – Rickenbackers – Barry van Zyl – hope - David Lee Roth
It's unlikely, in these days of rapid cultural deterioration, that you'll be able to secure a single all-encompassing definition of what a 'song' is. We've drifted so far from the shores of Cole Porter that we now call the data programmed by will.i.am 'songs'. And there's no way to argue successfully in this arena . People like me who find the modern world bereft of real 'song-writing' seem to be in a minority. Oh well. So be it.
"All Too Soon" is my contribution to that Olde World of crafting a lyric around a melody. It's the least 'ambitious' approach to songwriting there is, and it's totally non-competitive, and that's the point.
Music has been highly combative full-contact bloodsport for decades, and it's exhausting. I want to write songs I'd want to listen to at home, songs that don't sound like expensive jingles for hi-tech brands, songs that are warm and familiar and cosy and non-threatening and still have something to say about what it feels like to be human. I'm in my 40's now, dammit, I want music to strengthen me, not make me feel like I'm being indecently assaulted.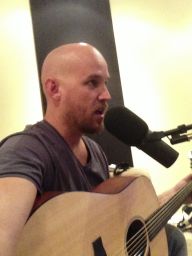 That's why it's Paul McCartney and Neil Young and Nick Lowe and Tom Petty and both Bobs and Ron Sexsmith and Neil Finn and Bruce Cockburn and Ray Davies et al. for me: that's the tradition I respect the most, it's the one that requires real craft and real hard work, and it's the one I can see myself growing old gracefully with.
So, "All Too Soon": it's got a distinctive melody and a rich chord structure and it's probably wearing a collared button-up shirt and it's entirely comfortable having nothing to prove.
If anything, this song is about how quickly the successes and achievements and good things of our lives seem to vanish.
It's not easy to deal with the success-failure-success-failure cycle modern lives seem to take, and the valley seems to last much longer than the summit, doesn't it?
Life is just hard, plain and simple, it resolutely refuses to play nice, nothing ever seems to last, things just disappear so fast, and we need to cherish the brief moments of the summit whenever we get there. I wish I had.
I was very fortunate to have my immensely talented mate Barry van Zyl play drums on the recording of "All Too Soon". Barry, as you know, created the "Rural" album with me in 2011, and he happened to be in Durban playing drums for Johnny Clegg, his regular gig, around the time we began work on the "Bush Telegraph" EP.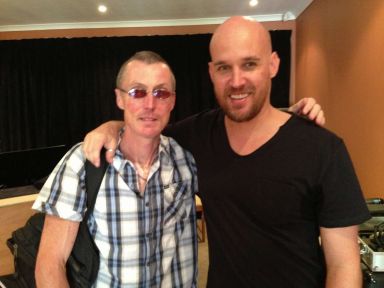 The night after a storming Clegg show, Barry rocked up at the studio on a particularly chaotic day and hammered out the graceful drum track you now know and love. A graceful, musical, professional, lovely man.
Incidentally, in the 'caution to the wind' spirit of this recording, Barry decided to use beaten, crusty old crash cymbals (the same ones Andy Turrell had just lambasted on "Oncoming Train") as hi-hats.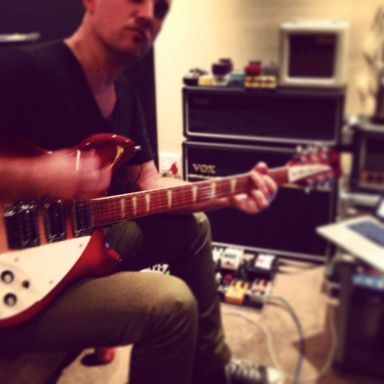 As well as my prized John Lennon Epiphone Casino, I unpacked my Rickenbacker 12-string for this song. It just seemed like the right thing to do. There's a hint of George Harrison/ Mike Campbell in there anyway, and it was great to use a guitar I haven't often had the opportunity to use since I bought it all the way back in Minneapolis in 2005. I only wish I could take the necessary year sabbatical I will need to change the strings.
Finally, I managed to squeeze a David Lee Roth quote into this song. Very inappropriate, and therefore very necessary. If you can spot it you win a weekend for two at the municipal library of your choice.
I'm especially proud of "All Too Soon". It began life as a sketch during a relaxed Midlands getaway and when it came time to commit a lyric to it, it happened all at once, which is very unusual for me. It's not a sad song, but there's a healthy dose of ruefulness, experience and hope in it. That's what I look for in songs.
Well, that, and a little David Lee Roth.
Next week:
Waiting To be Rescued
Listen to "All Too Soon" on Soundcloud here: https://soundcloud.com/johnelliscoza/all-too-soon
Buy "All Too Soon" on the "Bush Telegraph" EP here: https://itunes.apple.com/za/album/bush-telegraph-ep/id683000874
Check out my Facebook Fan Page:https://www.facebook.com/JohnEllisOfficialFanpage