THE EP: "WAITING TO BE RESCUED"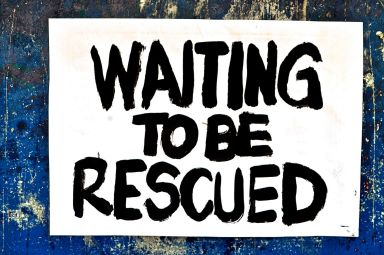 Web 2.0 Attention-Deficit Summary for the Reading-Impaired:
Shembe – demo – bass notes – Churchill – mantra – marimba - salvation
'Waiting To Be Rescued' is a mantra, a litany of potential saviours, and a very tongue-in-cheek appeal to all the various things I have at one time or another put my hope for salvation in. Not all of the people, of course; I've never taken Shembe seriously (I'm a 'white' South African), I can't vote for Obama, Winston Churchill is no more etc. If anything, this is just a jittery caffeine-induced stroll down the list of people and things I've spent quality time with.

As with the creation of "Bush Telegraph", this song did not start life as a 'song' in the 'carefully-crafted' sense. It was just a groove, those two double-bass notes and the incessant repetition of that 3-note melody, as well as the tag line of "I am waiting to be rescued", that all appeared in my head at once. I took a little time to list all the things to throw into the lyric (I had help from a friend who suggested Austen and Dickens), and it was done. Safe to say it arrived fully formed, and I just captured it as it flew past.
The trick for me was how little the song needed, not how much. Getting out of the way of a song is a skill that takes years to develop, and this was a good exercise in 'the less the better'. That's why so little happens, really, and when it finally does, it's gone before you know it.
Most of what I demo'd at home as I wrote it ended up on the final version you now know and love so well. Brent and I pulled up the session in his studio and began replacing things with 'real' or 'better' performances, and the song started losing its very odd personality. So we took the decision to just leave it alone.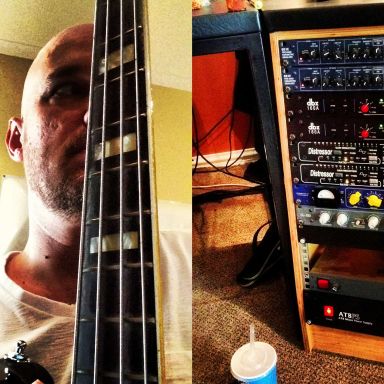 There's no guitar on this song. I love that. There's also marimba, a traditional hand-held African instrument that I've never used before, as well as an awkward ungainly shaker made from bamboo I bought in the Caribbean in 2004. My friend, who suggested Austen and Dickens, also agreed (reluctantly) to sing the refrain, and it's the first time I've had a female voice on one of my songs. Overall, as with the whole recording session for the "Bush Telegraph" ep, some odd, non-obvious choices, which is so liberating.
Strangely enough, this is one of my most favourite songs I've ever written.
The list?
Jesus. Shembe (a self-styled Zulu prophet). Obama. Zuma. JuJu (short for Julius Malema, a self-styled political prophet). Cape Town (better than Durban?). Berlin (better than South Africa?). Filters ( Camel). Jameson's. Jager. Churchill. Sony. Rough Trade (the label, not the practice thereof…). Dickens. Austen. Zulu. Xhosa. Etc…
If any of these things could actually make my life a little easier/better, I'd like to know.
Until then, I'm still waiting.
But ultimately, we have to rescue ourselves. Right?
Thanks for reading the "Bush Telegraph" blog. That's it. Five songs, five blogs. If you've enjoyed, please leave a comment.

Listen to "Waiting To Be Rescued" here: https://soundcloud.com/johnelliscoza/waiting-to-be-rescued
Buy "Waiting To be Rescued" on the "Bush Telegraph" EP here: https://itunes.apple.com/za/album/bush-telegraph-ep/id683000874
Check out my Facebook Fan Page: https://www.facebook.com/JohnEllisOfficialFanpage